The offer of courses for students of master programs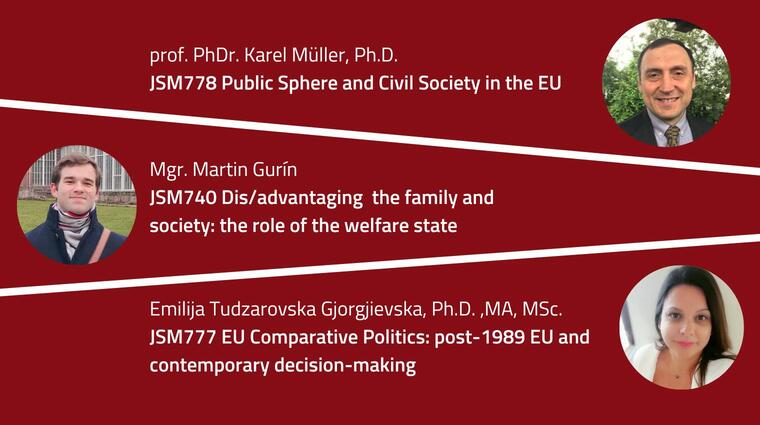 The offer of courses for students of master programs
Prof. PhDr. Karel Müller Ph.D. leads JSM778 Public Sphere and Civil Society in the EU. Course discussions will be framed within the theoretical concepts of the public sphere, collective identity, and bordering. These theoretical concepts will be introduced and discussed in relation to both the nation-state level and the transnational European level. The main objectives of the course are to acquaint students with the similarities and differences of contemporary civil societies in the EU and discuss preconditions and prospects of mastering liberal democracy at the EU level. Attention will be paid to the role of borders, bordering and its transformation in the EU.
The course JSM740 Dis/advantaging the family and society: the role of the welfare state led by Mgr. Martin Gurín will focus on the role of the welfare state in such inequalities, as the actor intervening in solving social inequalities but also as the actor which creates new or maintains existing inequalities. In an interactive form, the course will try to introduce students to various forms and facets of inequalities (such as gender, sexuality, and labour market) and the way how these inequalities, as produced by the welfare state, can be identified.
Emilija Tudzarovska Gjorgjievska, Ph.D. ,MA, MSc. offers the course JSM777 EU Comparative Politics: post-1989 EU and contemporary decision-making. The goal of this course is to understand the functioning of the EU, its development since 1989, and the contemporary challenges: technopopulism, conflicts of sovereignties and the East-West divide. This course aims to explore the role of the EU as a union of transformed member-states, from the aspect of party politics, economization of politics and the historical transformation of the EU, with the aim to understand the contemporary ways of doing politics.