Thursday Sociological Seminars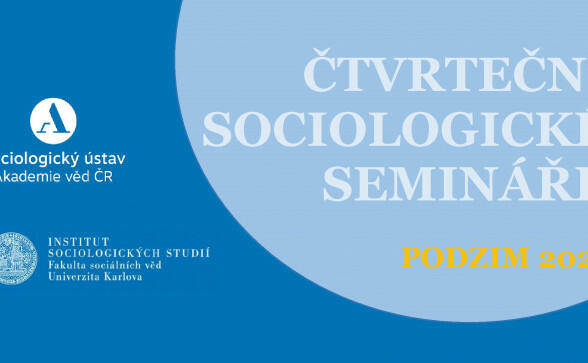 Thursday Sociological Seminars
Dear colleagues,
We would like to invite you to an autumn cycle of Thursday Sociological Seminars. See enclosed programme. There are still some free dates (14.10., 5.11., 18.11. a 3.12.), if you are interested in holding a lecture or inviting a guest lecturer, we would be delighted.
The epidemiological situation, unfortunately, does not allow us to have completely open seminars as before. Therefore, we decided to pursue a hybrid mode. Seminars will take place F2F in the Sociological institute (with limited capacity) and parallel on Zoom. All participants will need to register in advance and choose the preferred mode. If the capacity of F2F is exhausted, all other participants will be automatically sent a link to Zoom.
Currently, all people present F2F on the events at the Sociological institute must meet one of the anti-epidemic conditions: covid-19 vaccination, recovered from covid-19 in the past 180 days, or test - antigen (max. 72 hours old) or PCR (max. 7 days old). Also, either respirator or surgical mask must be worn due to current rules. If the requirements change, we will immediately inform you.
The online link will be distributed on the day of the seminar.
The registration form will be available always on Friday at 12.00, a week before the event on our website (www.soc.cas.cz). Since the room 207 capacity is very low (in total 12 people including one organizer and lecturer/s), we appeal to you if you register for F2F mode and change your mind to let us know ASAP, so that the next interested person will be able to take part.
If you have any questions, do not hesitate to contact us.
We are looking forward to seeing you,
Petra Šalamounová, Míša Kudrnáčová a Honza Klusáček