Thursday seminars/27.4. 14.00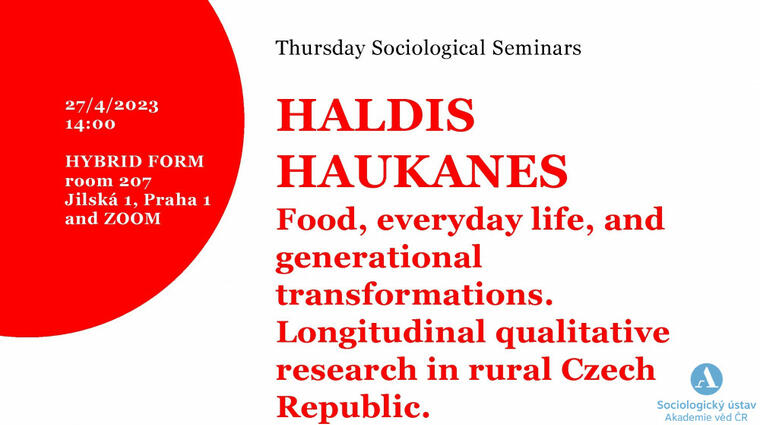 Thursday seminars/27.4. 14.00
Dear colleagues,
We would like to invite you to a lecture from the spring cycle of
Thursday's sociological seminars. On Thursday, April 27 at 14.00, Haldis
Haukanes will have a lecture regarding "Food, everyday life, and
generational transformations. Longitudinal qualitative research in rural
Czech Republic."
The seminar will take place in English in HYBRID FORM - in the meeting
room 207 Jilská 1, Praha 1 and via ZOOM.
The seminar is freely accessible for those attending f2f, if you intend
to attend online, please fill in your email here:
  https://docs.google.com/forms/d/e/1FAIpQLSdg_PgP5RLcXEMCfRcGFODCYNm7y1KNNPLkwFOx-8sMlYkXFA/viewform?vc=0&c=0&w=1&flr=0
and we will send you a link on the day of the seminar.
More information regarding the lecture are enclosed in the email and can
be also found on the website of the Sociological Institute
(https://www.soc.cas.cz/akce/food-everyday-life-and-generational-transformations-longitudinal-qualitative-research-rural)
and on our Facebook.
The updated program of the spring cycle can be found in the appendix.
We are looking forward to seeing you,
Petra Šalamounová, Míša Kudrnáčová a Jan Klusáček